The Overcoat is a moving and entertaining
new musical based on Nikolai Gogol's tragicomic shortstory about a timid clerk, Akaky Akakievich,
who seeks revenge after his prized possession is stolen. When his corpse begins to roam the streets of St. Petersburg, no one's coat is safe. Bureaucracy and justice collide in this dark and haunting yet optimistic story. A show that embraces and breaks the conventions of traditional musical theatre storytelling, The Overcoat's dialogue is crisp and its characters colourful. The music is tuneful but with the edge and bite of a Prokofiev symphony and the occasional lapse into jazz and rap.
"An airtight musical treatment that can't be faulted" -curtainup.com (New York)
"The piece makes its point in a subtle and poignant way." -What's On in London
"A lightly melodic score by Robert Rival is matched by John Gregor's clever lyrics in the clerk's pathetic paean to the letters of the alphabet he most likes writing and in a patter song for co-workers...influence of Sondheim, with musical echoes of Sweeney Todd." -Gerald Berkowitz, Stage Newspaper (London)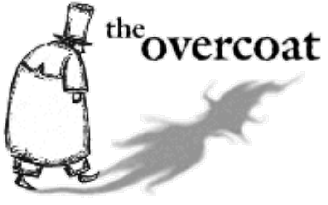 THE OVERCOAT
Music by Robert Rival
Book & Lyrics by John Gregor
The Overcoat was concieved and first produced at the NYU Graduate Musical Theater Writing Program. Subsequently it has been preformed at the New York International Fringe Festival, the Bridewell Theatre, London, Barrington Stage and The 3rd Annual Lewes Festival of New Musicals (Lewes, Delaware).
Elegy
-
John Gregor & Robert Rival
How'd You Like a Coat
-
John Gregor & Robert Rival
Teasing Akaky
-
John Gregor & Robert Rival